Unisteel Engineering Works came into being as a partnership firm in 1997 to mainly produce civil construction machinery. It manufactures machines that find utility in concrete surfacing work – roads, reservoirs, tennis courts and airport runways; as also internal lining machines for pipe, cement mortar and pan mixture.
The business hub is a well-equipped manufacturing facility in Ahmedabad with an installed capacity of 120 heavy-duty machines per annum, a percentage of which are exported to Kuwait, Iran, Armenia, Saudi Arabia, Vietnam, etc. The Unisteel success story revolves around technical precision, quality control, expert know-how and unrelenting dedication. Values that have helped the brand quickly scale the pinnacle.
Overcoming initial limitations of seed funding, Unisteel wasted no time in honing every aspect of the business: Latest technology was harnessed to improve processes and output, great emphasis was placed on customer service, and a response network was developed right across the country. A further thrust on staff training, quality control and OHSAS 18001 safety standards has ensured a work ethic reflected in superior products and service.
To promote the business, print advertising, web portal marketing and sales incentives are complemented by trade fair participation and business chamber memberships. With a credo founded in the bedrock of customer delight, referrals are another engine of growth.
In 12 years, growth has surged along every parameter – reflected by a 500% increase in production during this period. To widen its customer and territorial base, Unisteel constantly explores new designs and features and a greater global marketing thrust.
Unisteel is indeed engineered for success.
We congratulate Unisteel Engineering Works for its pioneering efforts and wish it many more years of success!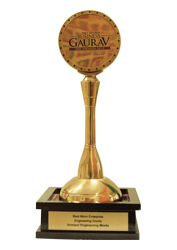 Buisness Gaurav SME Awards 2015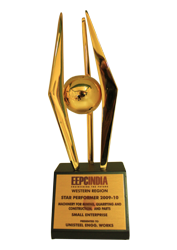 EEPC India Western Region